Parent-child interactions are the foundational forum for language exposure and learning. We know from a wealth of evidence that higher amounts of language input and varied forms of language input provided by parents to their young children during these interactions enhances language development in typical development, which in turn confers long-term linguistic and academic advantages (Hart & Risley, 1995; Hoff & Naigles, 2002; Huttenlocher et al., 1991; Hurtado et al., 2008). These findings reveal that children implicitly keep track of language input, and develop better language abilities when immersed in rich input environments.
There has been less attention paid to the role of parental linguistic input in language development in children with Autism Spectrum Disorder (ASD). A clearer picture of the data that children with ASD have available to mine for language learning, as well as of specific relationships between aspects of the input and later language development, are essential for a comprehensive view of factors that contribute to language development in this population.
Our findings, culled from transcription of naturalistic parent-child play interactions, demonstrate that parents of children with ASD provide similar linguistic environments for their children as do parents of typically-developing children of the same language ability. Critically, we found that a rich and varied linguistic environment helps children with ASD build their later vocabulary, as is the case for other children. These findings highlight the key role caregivers and educators can have in the language development of children with ASD. In addition, they have significant implications for intervention approaches to facilitate language in ASD, supporting the use of full and complex rather than simplified language.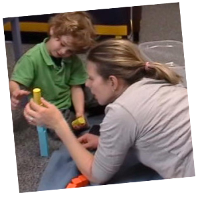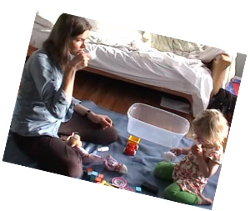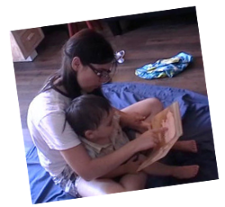 Publications
Journal Articles
Bang, J. & Nadig, A. (2015). Learning Language in Autism: Maternal Linguistic Input Contributes to Later Vocabulary. Autism Research, 8 (2), 214-223.
Selected Conference Presentations
Rees, K., Rvachew, S., Tausch, C. & Nadig, A. (2014, November). Relative engagement with print & e-books by typically developing & language-impaired children. Poster presented at the American Speech-Language-Hearing Association Conference, Orlando, Florida, USA.
Gonzalez-Barrero, A. & Nadig, A. (2013, June). Parental questions during shared storybook reading with children with Autism Spectrum Disorders: Relationships with vocabulary growth. Poster presented at the 2013 Child Language Seminar, Manchester, United Kingdom.
Smith, S.C. & Nadig, A., (2012, May). Parent-child shared storybook reading for children with autism spectrum disorders: A comparison with typical development and relationships with child language. Poster presented at the 11th Annual International Meeting for Autism Research, Toronto, ON, Canada.
Book Chapters
Nadig, A. & Bang, J. (in press). Caregiver input: how does the linguistic environment of children with ASD compare to that of language-matched typically-developing children? In L. Naigles (Ed.), Innovative Investigations of Language in Autism Spectrum Disorder, APA/Walter de Gruyter.
Rees., K, Rvachew, S. & Nadig, A. (accepted). Adults and children make meaning together with e-books. In N. Kucirkova and G. Galloon (Eds.), Apps, technology and young learners: International evidence for teaching. Taylor &Francis/Routledge.
Invited Talks
Nadig, A. (2015). The nurture side of the puzzle: parental language input to children with autism spectrum disorders. University of Connecticut, Psychology Department Developmental Colloquium, Storrs, Connecticut, USA, December 4.
Nadig, A. (2014). Caregiver input: how does the linguistic environment of children with ASD compare to that of language-matched typically-developing children? University of Alberta Communication Sciences and Disorders Department Seminar, Edmonton, Alberta, Canada, October 26.